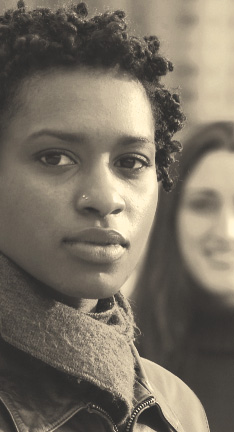 About California Newsreel

California Newsreel has produced and distributed cutting-edge social issue films for activists and educators since 1968. Today it is the oldest, independent non-profit documentary center in the country and the first systematically to integrate media production and distribution with the media needs of contemporary social change movements.
Media Resources for African American Educators and Communities
Over the past five decades, California Newsreel .has become a leading resource center for advancing racial justice through its unparalleled collection of films on African American and African life and history. This course was already charted by our first two productions in 1969, collaborations with the Black Panther Party and the organizers of the first Ethnic Studies Department in the country. Since then we have regularly acquired distinguished documentaries on topics of pressing concern to African American communities. During the 1980s, California Newsreel provided many of the audiovisual resources used by the anti-Apartheid movement and, upon its triumph, broadened our collection into the largest library of African-produced features and documentaries in the United States. .In the 1990s, California Newsreel releases, such as Ethnic Notions and Skin Deep, played a useful role on campuses across America in introducing multicultural education and diversity awareness. Today we distribute more than 150 titles on African American and African topics on DVD as well as the leading digital delivery formats – site/local streaming, video-on-demand subscriptions, online database collections and digital rental.
Multi-Media Production Initiatives
California Newsreel has produced three of the most ambitious and widely-used, social change media projects of the 21st century, each designed to provide a comprehensive package of film and online resources for organizers and educators working on specific issues of urgent public concern. In 2003, we released Race - The Power of an Illusion a three-part public television series, which is now a standard text for the study of race in contemporary American society. This was followed in 2008 by Unnatural Causes: a seven-part, multi-media series exploring the impact of racial discrimination and growing poverty on health inequalities. The success of this project lead to our upcoming 2014 release, The Raising of America, a transmedia learning platform with five video modules, tracing the links between growing social inequality, inadequate investment in early childhood development and America's achievement gap compared to other developed nations.
Rethinking Social Change Media Production
Close to fifty years of distributing media for social change, California Newsreel consistently noted a disparity between the social issue films our film users say they need and the social issue films funded and produced - severely limiting the audience and impact of activist media in American public life. Newsreel decided to reduce the role of serendipity in our own productions by developing and implementing an innovative, user-based social action media design paradigm. In this process, we first ascertain the needs, preferences and goals of a project's intended users and only then collaborate with them in designing and producing the most effective and efficient trans-media solutions. This procedure is more fully described in "Towards Accountability: An Essay in Collaborative Activist Media Production", "Before You Shoot: What Every Producer Should Know", and "Educational Film Distribution".