BLACKS & JEWS
Facilitator Guide
CONTENTS
Part I

About This Guide
Before Viewing
Viewing the Film
Part II

Story One: Crown Heights: Diversity & Representation
Story Two: Lawndale & the Civil Rights Coalition
Story Three: Nationalism and Leadership
Story Four: Hollywood
Story Five: High School Students & the Challenge of Empathy
After Viewing: Activities and Research Projects
---
Letter from the Filmmakers
We, the team of Black and Jewish filmmakers who made "Blacks and Jews", hope to provoke debate and discussion about intergroup relations in the United States. We hope the film lets us laugh about ourselves and lets us approach one another without fear.
However, this film is not about feeling good about ourselves or one another. The five stories in the film portray conflict and how conflict can lead to a deeper understanding of ourselves and others. The film is as much about the conflicts that go on inside a community as the conflicts among communities.
As a result, "Blacks and Jews" is not just for Blacks and Jews. People of other ethnic and racial backgrounds have used the film effectively to provoke discussions about their own experiences.
Paradoxically, the relationship between African Americans and Jews is a good case study of intergroup conflict because Black/Jewish cooperation has a long history. The two groups played major roles--often working together--in shaping American politics, culture and identity. Radical social movements from labor to civil rights were built on coalitions of Blacks and Jews, and their solidarity at key moments in American history is well known. African American leaders strongly supported anti-Nazi efforts during World War Two. The Jewish community was a major partner in the civil rights movement after the war.
This history of solidarity is often forgotten in recent public feuds, which mask the efforts of many Blacks and Jews who continue to work together and to struggle in their own communities to build coalitions for social change.
The United States is a nation of minorities. Either we learn to respect and learn from one another in our conflicts as well as our coalitions, or we lose the excitement of life in a multicultural society: the creative interaction of different people and peoples.
---
About This Guide: Fitting "Blacks and Jews" Into Your Curriculum
This study guide is for using the documentary "Blacks and Jews" to initiate discussion of intergroup relations and conflict. It is intended for university professors, high school teachers, diversity trainers, community activists, and film programmers. However, throughout the study guide, we will often use the generic terms "teacher", "student", and "classroom" to cover all these groups and uses. The guide includes background information, questions, and a variety of activities for different classroom and community contexts.
"Blacks and Jews" focuses on two American communities, but the issues and conflicts between these two groups are emblematic of intergroup relations among other ethnic and racial groups as well. This film provides a language for viewers to discuss intergroup relations in general as well as in situations that do not involve African Americans or Jews.
"Blacks and Jews" is 85 minutes long and is divided into five different stories or segments. As a result, you can decide to use all or just a portion of the film. This guide aims to give you as much flexibility as possible.
The guide is divided in two parts. Key issues and goals are summarized in Part I of the study guide. More in-depth information, activities, and resources are included in the rest of the guide.
How to Use "Blacks and Jews": An Important Note to Teachers
You may find "Blacks and Jews" very different from documentaries you are used to. Thestories in the film are not told from a single point of view, but from multiple perspectives. Viewers may have strong feelings about the film's characters and may draw very different conclusions from the stories.
As a result, it is important that you prescreen the film so you can set context, outline ground rules for discussion, and establish goals and expectations for further work. Be sure to leave enough time for this process before and after screening the film.
Program Goals
Students will:

explore the extraordinary diversity within the Black and Jewish communities

examine the causes of conflict between communities

understand how the media, politicians, and demagogues can take advantage of popular prejudices and misunderstandings

hear the voices of those who speak against racism and anti-Semitism

relate concepts explored in the film to their own experiences and communities.
---
Film Summary
"Blacks and Jews" re-frames the issues of Jewish/Black coalition and conflict by presenting one historic and four contemporary stories from multiple perspectives. The events unfold on camera, and the stories are told by people who were directly involved. Archival footage and interviews with scholars add overview and context.
The stories take the viewer from the streets of New York's Crown Heights during the 1991 Black/Jewish riots to the historic Black/Jewish coalition that protested against real estate speculators in Chicago; from the laughter of a Black/Jewish dialogue group to the indignation caused by Black and Jewish stereotypes in Hollywood; from the differing Black and Jewish views of the 1995 Million Man March in Washington to the halls of Castlemont High School in Oakland, California when disruptive students were thrown out of a screening of "Schindler's List." (Detailed story summaries are in Part Two of this study guide).
The stories are linked by dramatic presentations, including excerpts from the play "Crossing the Broken Bridge" and a story by author Patricia Williams about the difficulty and the necessity of empathy.
Background
Jewish/Black relations have become the touchstone for debate about whether different ethnic, racial, religious, or cultural groups can or should work together. It has become the focal point for a debate over Jewish identity and Black pride, over competing victimizations, and even over who has the right to speak on issues of race and ethnicity.
The film emphasizes that the crucial factors in relationships between ethnic and racial groups are the political will and desire generated inside each community. When such will and desire exist, then communities can overcome major obstacles and misunderstandings to work together on common agendas. When the will and desire do not exist inside each community, then even small disputes and irritations are enough to shatter strong alliances.
Unfamiliar Terms:
A number of terms and topics will be useful to review prior to viewing the film. Teachers and students should have some familiarity with them. Most of these terms are discussed in part two of the study guide.
Racism and Anti-Semitism

Nationalism

Slavery and the Slave Trade

The Civil Rights Movement

Nazis and the Holocaust

Coalition Politics

Judaism and Zionism

Empathy
Classroom Contract
"Blacks and Jews" provides a focus for discussion about hotly-debated issues and about stereotypes groups have about one another. The aim of the film is to overcome such negative images, not to reinforce them. Nevertheless, because such conflicts and stereotypes are regularly publicized by the media, it is easy for people to fall back into old patterns of blame and competition.
As a result, it is important to create a safe space and strong leadership so that honest and productive discussions can take place. To help create such an environment, you may want to establish a contract in which everyone, including teachers, agrees to ground rules for discussion.
You and your class may add to this list, but here are the essentials:
1) Respect: Agree to listen to one another and not to interrupt even if you strongly disagree with what someone is saying.
2) Confidentiality: Agree that anything said in the room is privileged. No one will identify a person in the group by name or by other identifying factors outside the room.
3) Individuality: Agree that each person should be treated as an individual, not as the representative of the group or expert on the group to which he or she belongs.
4) Safety: Agree that everyone must feel safe. There may be disagreement and debate, but after the class or meeting, there will be no blame and no retaliation for anything said during the class or meeting.
Activities
Use these activities to ensure that students have sufficient background to understand what they will see in the film and to make sure that they are familiar with the concepts and terms they will encounter. The aim here is to guide participants to a flexible and open definition of ethnic, racial, cultural, and religious identity.

1. Group Discussion: Defining Identity: Ask students to write a list of all the different ways they identify themselves. Give just a few examples, such as a student, a sister, a carpenter, a good baseball player, a Methodist. Each person's list may be quite long. Have students volunteer one or two of their identities. Guide the group to develop a list of general categories and write them down on a chalkboard or butcher paper. How do they live integrate their multiple identities?
2. Personal Writing, Crossing Borders A: Ask students to write a paragraph about a time when they crossed a racial, religious, or ethnic borderline and got a glimpse of how other people lived and what they felt. How did the experience affect them?
3. Personal Writing, Crossing Borders B: Ask students to write a brief passage describing the experience of being told that something he/she said, believed, or did was disloyal to his/her ethnic, racial, or religious group.
---
Options for Viewing the Film
"Blacks and Jews" is 85 minutes long. There are five segments or stories in the film which can be shown all at once or in segments over several days or class periods.
The educational objectives will vary depending on the audience, the length of time available to consider the themes, and amount of the film that is being used. No matter what context you choose, ask your class to take notes on particular characters, decisions, or ideas as they watch the film. They will use the notes in discussions or in written work after the screening.
Option One: If the film is to be used for a single class or for a one-time meeting, you can use Part I of this guide for a quick overview of educational objectives, ground for discussion, discussion questions, and short term activities.
The educational objective of using the film in this context is to give viewers a safe forum to see through stereotypes and to discuss their differences in a context that supports efforts to understand one another.
Option Two: If the film is part of a larger curriculum about intergroup relations, you will want to review the more in-depth materials from Part II. This part provides detailed background information, more complex discussion questions, longer term projects, and additional resources.
In this context, an additional goal of the film is to help viewers consider the often intense conflicts inside their own communities over how to relate to and reach out to other communities.
Option Three: If only one of the five stories in the film is being shown, you should summarize some of the themes of the entire film before the screening. You might also find it helpful to look over the background and themes discussion for that story in Part Two of the study guide.
In this abbreviated context, the educational goal is to challenge students to summarize the differing perspectives of the characters and to imagine what they would do to resolve the conflict if they were in the story themselves.
Story Segments and Possible Stopping Points
The story segments are timed and briefly summarized below. Specific questions relating to each segment, along with more in-depth background information and activities, are in Part Two of the study guide.
Story One - Crown Heights: Diversity & Representation - 15 minutes
Begins: 0:00 - Ends: 15:48
A Caribbean born journalist saves the life of an Hasidic Jew during
the 1991 Crown Height riots.
Story Two - Lawndale & the Civil Rights Coalition - 18 minutes
Begins: 15:48 - Ends: 33:05
A Chicago Rabbi takes on real estate speculators and racism in his own
community in the 1960's.
Story Three - Nationalism & Leadership - 14 minutes
Begins: 33:05 - Ends: 47:25
One man's journey through the Nation of Islam to the Million Man
March - Salim Muwakkil critiques Black anti-Semitism.
Story Four - Hollywood - 9 minutes
Begins: 47:25 - Ends: 56:22
A Jewish director succeeds in Hollywood...a Black screenwriter
struggles to be heard.
Story Five - High School Students & The Challenge of Empathy - 26 minutes
Begins: 56:22 - Ends: 1:22:00
Black teens laugh during "Schindler's List," provoking a media
frenzy and political circus.
Questions to consider while viewing
To help students focus on the main ideas, have them consider these questions while viewing. You may want to use these questions as a handout.
How did each character respond to crisis? What did that person do?

Which institutions and community groups were involved? What did they do?

Is there a price for crossing racial or ethnic borders?

What is gained by working with people from other groups?

When is group loyalty positive? When is it negative?
---
PART II
Story Summaries and In-Depth Discussion Topics
Story One
Crown Heights: Diversity & Representation
15 minutes - Begins: 00:00 - Ends: 15:48
Outcue: Narration: "Today's dialogue groups cannot replace the close political coalitions of the civil rights era."
Summary
The first story opens with the 1991 Crown Heights riots in Brooklyn, New York, when long- standing tensions between Black West Indians from the Caribbean and Hasidic Jews erupt in a widely reported wave of violence. During the riots, West Indian-born journalist Peter Noel saves Moroccan-born Hasid Isaac Bitton from an angry mob. Noel is upset when the next day's newspaper shows the injured Bitton, but makes no mention of Noel helping him. The two men meet again to talk about the events that brought them together. The film also shows the Crown Heights rap and dialogue group "The Cure," which brings together Black and Jewish teens to talk out their fears and overcome stereotypes.
Background
Brooklyn, New York is home to a number of Hasidic Jewish sects, groups that follow a charismatic rabbi and rigidly adhere to religious laws. One of the largest of these groups is the Lubavitch sect, whose late leader, Rebbe Menachem Schneerson, was considered the Messiah by his followers. The center of Hasidism was in Eastern Europe and Russia until the Holocaust when hundreds of thousands of Hasids were killed by the Nazis. After the Holocaust, the center of the Lubavitch group has been in Crown Heights, Brooklyn.
The Lubavitch and other ultra-orthodox Hasidic sects are immediately recognizable in the community because the men wear black coats and hats and the women keep their hair covered. Mainstream and more liberal Jews often are uncomfortable with the insularity, male domination, religious fervor and right wing politics of many Hasidic leaders.
Brooklyn is also home to the nation's largest community of immigrants from the many islands of the Caribbean. Many West Indian Blacks have settled in the Crown Heights area where they, like the Lubavitch, have become a political force. The two groups often compete for public housing, police services, and political office. The Caribbean immigrants often do not follow mainstream African American leaders or elected officials.
The 1991 riots began after a car in Rebbe Schneerson's police-escorted motorcade ran over and killed seven year old Gavin Cato, whose family had immigrated to Brooklyn from Guyana, a South American nation considered part of the Caribbean. A few hours later, a group of young West Indians stabbed a Hasidic immigrant from Australia, Yankl Rosenbaum, who was in Crown Heights for religious studies. During the riots, Peter Noel was one of the few journalists who, because of his West Indian background, understood what was going on among young West Indians.
Themes
When blood is spilled, people and the media take notice because an argument has become a matter of life and death. The "image" of the incident becomes frozen on film and in time. We who see the picture remember the image and the ideas that image conveys. No matter how many appeals to reason we may hear, the image remains dominant in our minds--until another image replaces it.
In 1964, a defining image of the civil rights movement was the "Missing" poster of three young men whose decomposed bodies were unearthed from a river bank in Philadelphia, Mississippi. The three civil rights workers, one of them Black, James Chaney, and two of them Jewish, Andrew Goodman and Michael Schwerner, came to represent Black/White unity and sacrifice in the fight against racism and bigotry.
In 1991, a different set of images became dominant. Again, they were images of victims, one Black, seven year old Gavin Cato, and one Jewish, Hasidic student Yankl Rosenbaum, killed in Crown Heights just hours apart and under very different circumstances. This time the victims symbolized not common sacrifice, but brutal division.
We may like the meaning of the 1964 image of unity better than the 1991 image of division, but both are based on the same two ideas: 1) that reality can be summarized and represented in an image and 2) that victimization or martyrdom defines who we are and justifies our view of the world and of others.
The film "Blacks and Jews" asks us to question the images we carry around with us and to notice which images have hardened into stereotypes that reduce and dehumanize other people. It encourages us to look closely at what happens when we define ourselves primarily as victims and other people as victimizers.
Questions for Discussion
1. Mississippi martyrs, 1964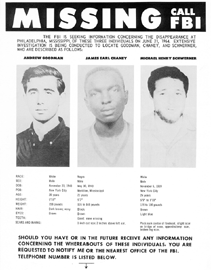 2. Crown Heights coverage, 1991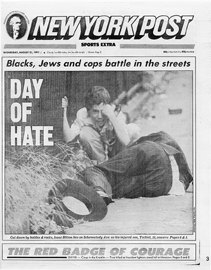 3. Peter Noel and Isaac Bitton, 1993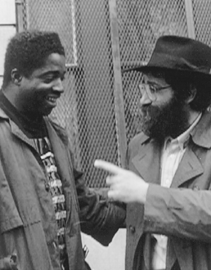 Show the class the three pictures above: 1) Goodman, Chaney and Schwerner in the famous "Missing" poster, 2) the front page of the NY Post with Bitton on the ground, 3) the photo of Peter Noel and Isaac Bitton. What do these three pictures say about Black-Jewish relations?
How did the image of Isaac Bitton lying in the street with his son next to him make you feel? How did you react when the woman in the street yells "Die, boy, die?" Do you think you would have done what Peter Noel did? What would have gone through your mind if you were Peter Noel?
Why do you think that the newspapers did not print pictures of Peter Noel helping Isaac Bitton?
Una Clarke is the first West Indian elected to the New York City Council. In the movie, she uses the words "uprising", "riot", and "pogrom" to describe the events in Crown Heights. Who do you think would use these different words and why?
Letty Cottin Pogrebin says mainstream Jews at first denied that the riots "had anything to do with them." Why do you think that is so?
Do you think people who are poor often end up fighting one another? What do you think they are fighting over? Do you think there are ways to prevent such fights?
Demographic Statistics: U.S. Population (1996): 264,015,000
Jews in U.S: 5,900,000 (2.3% of U.S. population)
Hasidic Jews in U.S: 200,000 (3% of Jewish population)
Blacks in U.S.: 33,141,000 (12.5% of U.S. population)
Non-Hispanic, Caribbean immigrants in U.S.: 1,271,000 (3.8% of Black population)
Sources: 1997 World Book Encyclopedia; Jerusalem Report; 1990 Census of Population, Social and Economic Characteristics, U.S. Summary Volume; 1995 Statistical Yearbook of the Immigration and Naturalization Service; The Newest New Yorkers, NYC Dept. of City Planning; "Demographic Profiles of Persons of Caribbean Ancestry," the Caribbean Resource Center at Medgar Evers College, CUNY.
Sidebar: The Question of Dialogue
In grade school, students are often told to verbalize disputes rather than to fight. The film "Blacks and Jews" shows many efforts to talk things out, including "The Cure" in Crown Heights, a Black-Jewish role-playing group in California, and a "dialogue about dialogue" between well-known activists, Harvard Professor Cornel West and Tikkun Editor Michael Lerner. In each case, the participants hope to get past stereotypes, to understand differences, and to find each other's common humanity. However, some speakers in the film suggest that dialogue rarely gets beyond the talk to "changing the world together."
Discussion Questions
What kinds of stereotypes did the Black and Jewish young people in "The Cure" have of one another? How were those stereotypes challenged?
Letty Cottin Pogrebin reveals that Jews and African Americans came into her dialogue group with different expectations and needs. What were the Black and Jewish participants looking for? Why do you think they had different goals?
Imagine you are David Lazerson (Dr. Laz) and other Hasidic people tell you that you "shouldn't kiss anyone's backside" by organizing dialogues between West Indian and Hasidic teenagers. How would you respond to them?
---
Story Two
Lawndale & the Civil Rights Coalition
18 minutes - Begins: 15:48 - Ends: 33:05
Audio Out: Actress Naomi Newman: "But what's the use? It's always the same. If it's good, it's not you, but if it's bad, it's the Jew!"
Summary
The second story describes a multiracial political coalition of the 1960's. Rabbi Robert Marx, founder of the Jewish Council on Urban Affairs, opposed housing discrimination against Blacks in what had been Chicago's largest Jewish neighborhood, Lawndale. He supported a Black civil rights group called the Contract Buyers League (CBL), which organized picket lines and payment strikes against the Jewish real estate speculators and the non-Jewish bankers who discriminated against Black home buyers. Many Blacks were evicted from their homes, and some Jewish leaders criticized Rabbi Marx for breaking ranks. In spite of these attacks, CBL Chair Clyde Ross says the group saved the homes of many Black home buyers and won new laws against housing discrimination.
Background
Chicago has long been one of the most segregated cities in the United States. Segregation was not imposed by law, but by violence. Anyone challenging it ran into threats and even physical attack. Blacks who tried to move into white areas of the city were beaten up and their houses vandalized. Established Jewish, Catholic and Protestant religious leaders often remained silent in order to avoid angering their constituents.
But some white religious leaders actively supported the civil rights movement in Chicago. The Jewish community was prominent in the movement in part because Jews also had experienced discrimination in housing, bank loans, and schools. Rabbi Robert Marx was a leader among Jewish civil rights activists in Chicago. The movement took on entrenched economic interests that were making millions of dollars by discriminating against Black home buyers.
In one Chicago community, Lawndale, Blacks fought back by organizing the Contract Buyers League in 1968. CBL picketed real estate speculators or "blockbusters" who used racial scare tactics to frighten local residents, most of them Jews, into selling their homes cheaply. The blockbusters then resold those same houses to Black buyers at exorbitant prices and interest rates.
In Lawndale, the speculators were almost all Jewish because until just a few years earlier, Lawndale had been the largest Jewish community in Chicago with some 50 synagogues in one square mile. In the single decade of the 1950's, writes historian Taylor Branch, "a titanic double rush replaced nearly 100,000 Jews with Blacks." This process in which one group replaces another in a community is called "succession."
Anthropologist Erich Rosenthal writes that in Lawndale, "What has been surprising to the trained observer has been the absence of inter-racial violence with which the population exchange took place." Unlike other ethnic groups, Jews didn't physically attack Blacks "moving in."
Long after Jewish residents had left, many of the businesses and houses in Lawndale still were owned by Jews. This often produced tensions between consumers and store owners and between tenants and landlords.
The history of discrimination against Jews and the Jewish-Black succession in communities across the country produced a range of responses in the Jewish community. Some Jews came to be major supporters of Black civil rights, but other Jews participated in discrimination against Blacks.
Rabbi Marx confronted this split of opinion in the Jewish community when he supported the Contract Buyers League. Establishment leaders in the Jewish, Catholic, and white Protestant communities reacted by forcing civil rights leaders like Marx out of their jobs and even out of Chicago. Rabbi Marx left the city for several years, but later returned as a recognized leader of conscience.
Although the Contract Buyers League was successful in challenging racist business practices and saving the homes of many Black buyers, the issues of economic and racial justice still have not been resolved and continue to divide American society today. Some leaders like Rabbi Marx are still working to bring people together to address these issues.
Themes
This story is about a civil rights struggle, but the central conflict portrayed in the film is Rabbi Robert Marx's effort to organize support in the Jewish community for the Black home buyers at a time when some Jews were profiting from housing discrimination. The story shows that communities are not monolithic and that there are constant battles inside each community between the establishment and those who want to change the status quo.
These battles for leadership determine whether a community gives higher priority to social justice issues that bring it into coalitions with other communities or to self-advancement issues that bring it into competition with other communities for a larger piece of the economic pie.
There is another theme of importance for students of the civil rights era. Often, the breakdown of the Black-Jewish civil rights coalition is blamed on the rise of Black Power movements in the mid-1960's and a turning inward by the Black community. However, political analyst Gary Rubin says in the film that this turning inward also happened among whites, noting that in the Jewish community, for example, there was "a steady slide away from involvement with larger social issues." In addition, there was active repression. Radical groups like the Black Panthers were violently attacked, but leaders of Martin Luther King's inter-religious civil rights coalition were also repressed. Powerful people in the white establishment--Jewish, Catholic, and Protestant--attacked Rabbi Marx and other white activists who challenged economic and political interests in the North.
Questions for Discussion
The filmmakers begin this section with pictures of synagogues that have become Baptist churches. Why do you think the filmmakers chose to begin the story this way? What do the pictures tell you?
Jewish real estate agents were furious at Rabbi Marx. In Crown Heights, Peter Noel risked the anger of West Indian rioters when he saved Isaac Bitton. Some Hasidic Jews dismissed David Lazerson's dialogue work as "kissing up." What do these situations have in common?
At one point in the story, you see mattresses and furniture piled in the street. What was your reaction to this scene? How did you feel when people carried the furniture back into the houses?
In the film, one of the people evicted says, "I won't give them [the banks and real estate agents] the money." Why do you think he and other members of the Contract Buyers League refused to pay even when they knew they would be evicted? Do you think you would do the same?
What do you think Rabbi Marx was feeling when he spoke about being sued and forced to leave Chicago?
Some real estate speculators said they were just making a buck, and that if they didn't do it, someone else would. What do you think of this statement? Were they racist or where they just making money?
Do you agree or disagree with the following statement and why? "The Lawndale story is not just about racism, but about class."
Terms & Phrases
"Redlining" - Redlining is a term originally used by the insurance and banking industries. These industries would literally draw red lines around African American neighborhoods on city maps and then demand higher interest rates inside those lines or refuse to do business with residents at all. This practice was outlawed by the 1968 Fair Housing Act, but minority neighborhoods across the country still show signs of being excluded from conventional banking services--banks are few and far between and neighborhood residents have difficulty securing loans.
"Blockbusting" - Blockbusting is the term used to describe racist scare tactics used by real estate speculators to frighten whites into selling their homes. Blockbusting was used extensively in Jewish neighborhoods on the basis of the cynical but largely accurate perception that Jews would offer minimum resistance to Blacks moving into their neighborhoods. Tactics included unsolicited nighttime calls from brokers who would say threatening things like "The value of your house is dropping $1,000 every month", or, "You have a 12 year old daughter. What if she was raped? You'd have a mulatto grandchild." The speculators bought cheap from whites and sold high to Blacks, making huge profits.
"Raise yourself up by your own bootstraps" - An American saying that affirms a belief that self-reliance, hard work and individual merit are rewarded with upward economic mobility. The phrase is often used as a prescription for success or as a means to compare African Americans with other white and non-white immigrant communities whose financial and social position has improved more rapidly over several generations. Upward class mobility occurs in part through education, job opportunity, social connections, and inheritance--opportunities that are often limited for African Americans.
"Bloodsuckers" - The term "bloodsucker" has its origins in the deeply anti-Semitic "blood libel" of Europe. In the middle ages, Jews were accused of kidnapping and murdering Christian children to use their blood to make unleavened bread for Passover. Starting in the 1300's, this superstition was often an accepted part of mainstream Christian theology and of popular folk tales. The accusation "bloodsucker" demonized Jews and set the stage for inquisitions, pogroms, and, in this century, the Nazi genocide. The image of Jews as parasites and vampires may have been marginalized in this century, but the myths still circulate. Recently, Minister Farrakhan has accused Jews (and sometimes other groups) of being "bloodsuckers," sucking the life from the Black community. Historian David Biale of the Graduate Theological Union warns "These folk beliefs continue to be out there and to be available for people who wish to exploit them. And we know this from history: These images tend to fuel outbreaks of violence against Jews."
Sidebar: "Crossing the Broken Bridge"
John O'Neal of Junebug Theater in New Orleans and Naomi Newman of the Traveling Jewish Theater in San Francisco developed and performed the play "Crossing the Broken Bridge" in theaters, churches, and synagogues across the country for several years. The two excerpts in the film "Blacks and Jews" reveal the feelings of betrayal some Blacks and Jews feel toward each other.
The actors play out how the same history can be interpreted in totally different ways. Some Blacks have charged that Jews tried to control the civil rights movement, that Jews abandoned the civil rights struggle and "became white," that Jews opposed affirmative action, or that Jews supported Israel's oppression of the Palestinians.
Some Jews charged that Blacks never gave Jews credit for disproportionately supporting civil rights, that Blacks kicked Jews out of the civil rights movement, that Blacks didn't appreciate that "quotas" were used historically to keep Jews out, that Blacks abandoned support for Israel as a Jewish homeland.
These charges and counter-charges are accompanied by a sense of disbelief, a feeling that "if anyone should understand our hurt and our history, they should, but they are the very ones who seem to understand us least."
There are real misunderstandings, insensitivities, and differences, but these charges and counter-charges always seem to portray the Black and Jewish communities as monolithic, as if everyone in the Jewish community is opposed to affirmative action, or as if everyone in the Black community is opposed to the existence of the state of Israel. But polls have consistently shown that a majority of Blacks support the state of Israel, even if some Blacks criticize Israeli government policies. And a recent election in California showed that Jews were the only white group to vote in their majority against efforts to eliminate affirmative action, even though most Jews oppose quotas.
Discussion Questions
At the beginning of the dialogue, actor John O'Neal says, "You gotta watch these Jews, myfriend..." and actor Naomi Newman responds, "You people show no appreciation at all..." How do you react to these phrases and to this way of thinking?
Actor Naomi Newman says, "If it's good, it's not you, but if it's bad, it's the Jew!" How did you feel when she said that? What does it mean to you?
---
Story Three
Nationalism & Leadership
14 minutes - Begins: 33:05 - Ends: 47:25
Audio Out: Author Letty Cottin Pogrebin: "Jews somehow or other go into the Black community lately when asking them to repudiate something, and I think that's not the basis on which any kind of collective action can be pursued."
Summary
In the third story, journalist and former Nation of Islam member Salim Muwakkil travels to Washington, D.C. for the 1995 Million Man March and discusses with other former members of the Nation of Islam the powerful lure of the rhetoric of Minister Louis Farrakhan. This segment reveals aspects of Farrakhan's much-publicized anti-Semitism and then goes on to examine how the repeated public ritual of Black-Jewish recriminations polarizes communities and strangles meaningful dialogue.
Background
The Nation of Islam is a Muslim sect founded in 1930 by W. Fard Muhammad, who members of the Nation believe to be the Messiah. He and his most important follower, Elijah Muhammad, created an unconventional form of Islam mixed with Black nationalism. Members of the Nation are noticeable because men often wear dark suits and bow ties and women keep themselves fully covered in public. Mainstream African Americans are often uncomfortable with the insularity, male domination, religious fervor and right wing politics of Nation of Islam leaders. Elijah Muhammad's best-known follower was Malcolm X, who eventually broke with the group and was assassinated by members of the Nation in 1965.
After Elijah Muhammad's death in 1975, the Nation split again with his son Wallace leading a large group into orthodox Sunni Islam while Louis Farrakhan carried on Elijah Muhammad's creed. Before Farrakhan, however, anti-Semitism was not a major part of the Nation's creed, since Elijah Muhammad rarely made distinctions between Jews and other whites. The Nation's membership has never been large, but its influence has always been greater than its membership. Farrakhan reached the pinnacle of his power as the convenor of the Million Man March which gathered hundreds of thousands of Black men for a peaceful demonstration on the Mall in Washington, DC in 1995.
Themes
As the story about Lawndale deals with internal divisions in the Jewish community and criticism of those Jews who "break ranks," this story deals with similar issues in the Black community. The story is an opportunity to discuss competing nationalisms among different racial and ethnic groups and the competition over nationalism inside each group.
Nationalism is one of the most powerful ideologies of the modern world. Most public discussions of nationalism deal with its negative aspects: chauvinism, bigotry, violence, and even genocide against other groups. But nationalism also has what many people consider positive aspects: group loyalty, a sense of entitlement, cultural expression, and solidarity. Most nationalist movements include elements of both these positive and negative traits.
How to interpret this nationalist "mission" or "idea" often becomes the focus of debate inside a community among those who are competing for leadership. Some leaders emphasize the need for coalition with other minorities to advance the group's own interests. Other leaders charge that advocates of coalition are beholden to outside groups and therefore not authentic. Instead, in the name of self-reliance, they preach withdrawal behind barricades to defend the group's interests against others.
Salim Muwakkil and his colleagues create a context for understanding the compelling reasons behind people's motivation to join nationalist groups. They joined the Nation of Islam not because of opposition to Jews or whites in general, but out of a Black nationalist commitment to themselves and their communities. Black men who attended the Million Man March in Washington in 1995 expressed similar views.
The leader of the march, Nation of Islam Minister Louis Farrakhan, first came to national attention in 1984 for making anti-Semitic statements about Jews. In the film, Farrakhan accuses Jews of causing America's problems. "You are the synagogue of Satan, and you have wrapped your tentacles around the U.S. government, and you are deceiving and sending this nation to hell."
Setting up such "scapegoats" has long been an effective way to mobilize people to circle the wagons against those outside the group. When journalist Salim Muwakkil warns Black students against such scapegoating, he notices that some of the students start to ask one another if he is a "sellout". They question his authenticity as a Black opinion maker because he is interested in making political alliances.
The question of alliance thus becomes the center of competition for group leadership, and this is true not only in the Black community but in all groups.
Coalitions are never easy, and provocative racist or anti-Semitic rhetoric is an easy way to sow the distrust and anger that make coalitions virtually impossible.
When Salim Muwakkil says that the current political climate is one "in which everyone is becoming much more tribal in their responses," he could also be referring to battles that go on inside the Jewish community. As in the Black community, there are many types of Jewish nationalists or Zionists. For years, some Jews opposed to peace agreements between Israel and the Palestinians have attacked other Jews who support such agreements as "self-hating Jews." This is the equivalent of being called an "Uncle Tom" in the Black community.
Questions for Discussion
Why were Salim Muwakkil and his friends attracted to the Nation of Islam? Discuss with students whether they would be attracted to a group for those reasons? Which reasons do they agree or disagree with?
Salim Muwakkil says the Nation of Islam was "Christian fundamentalism all over again." What does this mean?
Most people are able to identify groups to which they feel loyalty. To some, it's close friends, to others, race or ethnicity, and to others, the home team. What groups do you feel loyalty to? Is that loyalty more important than your own individual needs or views?
Salim Muwakkil says that when he criticizes anti-Semitism in front of Black student groups, "I notice that students begin to [ask] 'Is he a sellout?'" Why would students react this way? Why are some young people attracted to what Muwakkil calls "that no-sellout attitude?" Do you think it takes courage for Muwakkil to say this?
Community leaders often emphasize the importance of unity, but some critics say that unity often means uniformity rather than a sharing or exchange of thoughts and feelings. Do you think achieving unity requires limiting dissent?
Why do you think some Jewish and Black leaders might be distrustful of the idea of coalition? What do groups give up when they enter coalitions with other groups? What do they gain?
Intimidation is often an element in the battle for leadership inside each community. In extreme cases, the desire to silence opposing voices has led to assassination. Members of the Nation were convicted of killing Malcolm X after he split from and criticized the group. Israeli Prime Minister Yitzhak Rabin was assassinated by an orthodox Jewish extremist who opposed Rabin's decision to sign peace agreements with the Palestinians. How important is the example of an individual leader in changing the politics or beliefs of a group? What leaders do you respect and why? Have those leaders risked their status by taking unpopular or controversial positions?
Sidebar: The Ritual of Conflict
"Blacks and Jews" identifies a key problem in recent Black-Jewish conflicts: The conflicts have become ritualized events in which each side's most extreme leaders show off their credentials in bashing similar leaders of the other group. The process is carried out in front of the media, and it leaves members of each group feeling betrayed by the other group--exactly the feeling that separatists want to inspire to keep groups from joining together in coalitions.
The leaders of each group play their assigned roles as if they had scripts. In the end, the battle dies down, but no one is satisfied; everyone feels betrayed. People of good will in each community are irritated and annoyed at having their emotions manipulated once again, but they feel helpless to do anything about it lest they be charged with "breaking ranks" or with appeasing the provocateurs in the other community. Inevitably the process starts again with the next provocation.
"Blacks and Jews" suggests that it is this entire ritual pattern that has become the problem, and that this pattern itself must be broken.
Discussion Questions
What would Minister Farrakhan have to gain by keeping his conflict with Jews in the public eye?
What might some Jewish leaders have to gain by focusing on Farrakhan's leadership rather than on Black-Jewish coalitions? What do they gain by demanding that other Black leaders repudiate Farrakhan?
Why would some Black leaders feel insulted when asked to repudiate someone who has made an anti-Semitic statement? Are community leaders responsible for the statements of other community leaders?
What role does the press play in perpetuating the ritual of blame?
---
Story Four
Hollywood
9 Minutes - Begins: 47:25 - Ends: 56:22
Audio Out: Professor Clayborne Carson: "So from our perspective, what's the problem?"
Summary
For our fourth story, we go to Hollywood to confront the history of Jewish leadership in the film industry and the paranoid stereotypes of "Jewish control" that flow from that history. Director Arthur Hiller, President of the Academy of Motion Picture Arts and Sciences, says that when he came to Hollywood, he found his Jewishness was not a disadvantage or cause for exclusion. Wanda Coleman, screenwriter and poet, has a different experience of Hollywood. An award-winning writer for television, she finds that being Black requires constant self- explanation to overcome preconceptions held by many sympathetic Hollywood Jews, who believe they understand her because they "assume a kinship that may not be in evidence."
Background Jewish businessmen played a major role in creating the Hollywood studios in the early 1900's. MGM, Fox, Columbia, Paramount, Universal, and Warner Brothers were all started and led by Jews, almost all of them recent immigrants who were born in poverty in Eastern Europe. In his history of Hollywood, An Empire of Their Own, Neal Gabler writes that in the movie industry there "were none of the impediments imposed by loftier professions and more entrenched businesses to keep Jews and other undesirables out."
Very quickly, anti-Semites attacked the movie industry as a Jewish conspiracy to undermine "Christian" and "American" morals. Such beliefs in Jewish control, power, and conspiracy are traditional elements of anti-Semitic thinking. The role of these "Hollywood Jews" has been debated for years, but one thing is agreed on: most of them avoided identifying themselves as Jews at all, since their major desire was to assimilate and be accepted by the non-Jewish white establishment.
In more recent times, the role of Jews in Hollywood has become less central, but individual Jews are still leaders in the industry. Some African Americans, angered by negative images of Blacks in movies and by the small number of major Black directors and producers, have raised charges that Jews in Hollywood are both stereotyping and also unfairly excluding Blacks. Hollywood leaders have responded that there is no conspiracy controlling Hollywood and that Jews in the industry have been leading supporters of liberal causes, including civil rights and the expansion of Black participation in the industry.
Themes
The intensity of many people's feelings about Hollywood exists because movies have a bigger than life impact on all of us everywhere around the world. Hollywood movies, even sci-fi, comedies, and fantasies, play a major role in establishing and reaffirming societal norms, while they marginalize, misrepresent, and diminish "outsiders".
Many people have documented instances of stereotyping and racism in what we see on screen. Studies and surveys have also revealed that minorities and women are not adequately represented in the Writers Guild, Directors Guild, and in key production and distribution roles. Although studies reveal similar flaws in other industries, Hollywood's role in making images seems to make the issue more intense and personal.
Much work needs to be done to address these inequities. Campaigns to educate the public and put pressure on Hollywood executives can be effective. But the language that we use to describe power relations between groups of people in this country often betrays our own prejudices and can work against dialogue and positive action. When leveled as an accusation, the charge that Jews "control Hollywood" often fits neatly into the old European stereotype that Jewish "elders" conspire to run banks, the Federal Reserve, the media, and the world.
These charges confuse, irritate, or enrage most Jews, who feel what historian David Biale calls in the film "a kind of schizophrenia" about Jewish success in America. In this country, some Jews have become part of the establishment. Many Jews are proud of that fact, but they also worry that this success leads to jealousy and anti-Semitism, that Jews will be singled out, that they are vulnerable because Jews have always been "different," and "being different" is distrusted by the majority in any society.
This segment also introduces the question of empathy, a theme that is pursued more intensely in the following segment. The scene from "Silver Streak" reveals how Blacks and Jews can see the same material differently. Jewish Director Arthur Hiller does not understand what it is that Black actor Richard Pryor finds "anti-Black" in the original scene or what was different in the final version. Similarly, Hiller's insider view of the film business does not overlap with screenwriter Coleman's outsider view of the same business. This raises the question of how people from different cultures and with different histories can see and understand how others view the world around them.
Questions for Discussion
You may have seen movies in which minorities (including Jews) are stereotyped. Blacks have been portrayed as criminals, maids, or fools. Jews have been portrayed as wimps, manipulators, or "princesses." If you were Black or Jewish, how would you feel? What kind of stereotypes do you remember seeing of your own ethnic, racial, or other kind of group? How did you feel? What harm do you think results from the repetition of stereotypes?
When minority directors like Spike Lee or Luis Valdez make movies, they are often held to different standards. Why? Should minority directors have to "represent" their ethnic group?
Do different ethnic groups respond differently to movies? Why?
Screenwriter Wanda Coleman got her first assignment after the Watts riots in the 1960's. In the film she says: "It took a political movement to wedge those cultural doors open." What does that mean?
---
Story Five
High School Students & the Challenge of Empathy
26 minutes - Begins: 56:27 - Ends: 1:22:00
Audio Out: Patricia Williams: "...but one person can get the hang of it with time and effort."
Summary
The final segment chronicles the media frenzy in 1994 when 69 students on a field trip from Oakland's Castlemont High School were thrown out of a movie theater for disrupting a screening of Steven Spielberg's Holocaust epic "Schindler's List." Were the students who laughed at the on-screen execution of a Jewish woman guilty of anti-Semitism? Or were they just acting like teenagers? "A lot of students didn't even know that the Holocaust was a true story," admits one student. "If we don't understand our own pain, how are we going to understand your pain?" asks another. By the time Spielberg announced his plans to visit Castlemont (accompanied by California Governor Pete Wilson, then up for re-election), what began as a breach of teenage discipline had mushroomed into a full-fledged media circus. The film ends with a short autobiographical story told by African American author and law professor Patricia Williams about empathy and the possibility of reconciling or at least of understanding different points of view.
Background
Castlemont High School is located in an economically depressed area of East Oakland. In 1994, the student body of about 1,200 students was 77% Black, 18% Latino, and 5% Asian and Pacific Islander. Hundreds of school-age youth in the area don't attend school at all. For those who do, test scores are among the lowest in the Bay Area. A 1997 study showed only 7% of Castlemont tenth graders were reading near or above grade level. Teachers at the school struggle with few resources and say they have to spend their own money for school supplies.
January 17, 1994 was a school holiday for Reverend Martin Luther King's birthday. Several teachers decided to mark the day by taking students on a field trip to the movies and a skating rink. The film chosen was "Schindler's List" because it dealt with themes deemed relevant to King's life and work.
Themes
The final story in the film "Blacks and Jews" shows how powerful the ritual of conflict can be, but it also shows how vulnerable the ritual is to a daring new leader who has the desire to end it. The story also contrasts the media's role in magnifying conflict with the theme of empathy as a way of seeing through the smokescreen of immediate conflicts to more important social issues.
On a field trip, some of the 69 students from Castlemont High School misbehave at a screening of "Schindler's List." The entire group of students is expelled from the theater, and some people in the audience applaud their departure.
The incident at the theater is picked up by the local media and placed in the context of Black- Jewish conflict. The news stories create an image of the students as unruly, insensitive, crude and ignorant. In addition, many people reading the stories project their own preconceptions and prejudices on the incident. The blame becomes a tidal wave. The students are condemned not only as insensitive, but also as malevolent and anti-Semitic.
By this time the incident takes on a life of its own. Black and Jewish community leaders are powerless to affect the deluge of negative images and stereotypes. Even when local Jewish community leaders deny that anti-Semitism is a factor in the incident, the media coverage intensifies. The event at the theater becomes a national news story.
This raises the film's theme of empathy. Many adults who read the news reports or saw the TV stories blame the students for failing to have empathy for victims of the Holocaust, but these same adults fail to have empathy for the students. Student body President Kandi Stewart grasps this problem when she says there are "too many stereotypings of teenagers, and how could you do that if you was a teenager once yourself?"
The filmmakers try to address this theme of empathy by letting participants tell their own versions of the story without comment, allowing viewers to see the conflict from multiple perspectives.
The incident at the theater takes over the second half of the school year at Castlemont. The teachers who took the students to "Schindler's List" hoped to teach a lesson about empathy. Instead, the aftermath teaches the students a powerful lesson about cynicism.
Even after Castlemont students take responsibility for their misbehavior and apologize at a press conference, the blame continues. The school and the students adopt a series of defensive strategies. The school's effort on African Holocaust Day to teach the students about their own history is flawed by anti-Semitic statements made to students by some of the guest lecturers. Instead of empathy for all victims of oppression, the students see a competition over which group is the greater victim. This idea is reinforced as students learn to rationalize the insensitivity that they earlier apologized for by saying, "We should understand our own pain before we can understand somebody else's pain."
This statement raises many questions that go far beyond Castlemont. Whose pain comes first? Does learning about one's own pain and victimization always lead to empathy for others? Or can it just lead back to the ritual of blame as each group competes to be the greater victim?
The last scenes of the film reveal how the Black-Jewish conflict can be a diversion as politicians use intergroup conflict to their own advantage, preaching "tolerance" before television cameras. What gets lost in the hubbub are the real and immediate crises faced by the students and their teachers every day. The issues of inadequate funding for public education, the lack of jobs and opportunities, poverty and drugs, crime and poor housing, all are sidelined, overlooked or shrugged off as too complex and too expensive to solve.
But Kandi Stewart refuses to go along with the cover-up. If students at the theater were initially disruptive out of youthful ignorance and insensitivity, her disruption is no longer childish misbehavior, but the mature act of an adult. She pointedly refuses to play the victim. As a leader of her generation at the school, she makes a dramatic choice to reject the Black- Jewish ritual, to confront the state's most powerful politician with the truth as she and her generation see it, and to create the space for young leaders like herself to articulate a new vision.
At the end of the film, Professor Patricia Williams provides another response to the ritual process and also to the idea that empathy occurs only after knowing one's own pain. In a story from her book The Alchemy of Race and Rights, she defines the process of empathy as a way of seeing both the world and also oneself in it. It is the ability to see "simultaneously but differently." In her story, empathy is about vision, not victimization. Williams' story shows that empathy must be taught, learned, and practiced.
Questions for Discussion
Should people in one group be concerned that their speech or behavior disturbs another group?
If a group of white students had been disruptive during a screening of "Schindler's List," do you think it would have been widely reported in the newspapers? Why?
What did you think of the execution scene from "Schindler's List?" How did you feel when you saw the scene and the way the woman fell? Do you think that laughing at that scene was evidence of misbehavior, anti-Semitism, both, or neither?
How do you think the students felt when the lights went up in the theater and they were asked to leave while others in the audience applauded? Why do you think one student "broke down in tears because of what was in the paper?"
How have you been taught the history of your own ethnic or racial group? Was it the story of famous leaders or of on-going popular struggles and challenges? Who taught you? How did it make you feel? What value is it for you now?
Do you think ethnic and racial groups romanticize or even mythologize the histories of their groups? How much of your self esteem is due to your identification with an ethnic or racial group that has an heroic past and how much to your own individual efforts?
Several students say in one way or another, "I think we should understand our own pain before we can understand someone else's pain." Do you agree with this? Does learning about your own group's victimization make you feel more empathy for other people? Or does it make you feel distrust for others who might do something like that to you again? Which feeling would more likely lead you to reach out to other people?
Castlemont staff member Jerry Wolfe says, "Being a Jew is different from being white." What do you think he means? What is it to be white in America? Why wouldn't Jews be white?
How did you feel during the conversation between Jerry Wolfe and Anisa Rasheed about anti- Semitism and African Holocaust Day? Did they look uncomfortable? Were you uncomfortable? Who did you sympathize with? Were they able to listen and learn from each other? What would you like to ask them?
The word "holocaust" is used by both Jews and African Americans in the film. What are Jews referring to when they use the word? What are Blacks referring to when they use the term?
Do Jews and Blacks ever have common enemies? Who and why?
What difference would it make if we defined ourselves and our communities by primarily emphasizing one of the following: victimization, survival in diaspora, or cultural and political achievements?
Did you agree with what Kandi Stewart did, or did you feel that she should have shown more respect for the Governor? Do you think she should have been punished?
Sidebar: Teaching about the slave trade
In "Blacks and Jews," a Castlemont student quotes a visiting speaker who told her "a lot of the slave ships were owned by Jews." Similar deceptive statements have been repeated frequently by members of the Nation of Islam. Taught out of context to young people, the half-truth in the statement operates as a charge against an entire people.
The slave trade was one of the greatest crimes against humanity ever committed. One estimate says nearly 11,700,000 slaves were "exported" from Africa to North and South America from 1450 to 1900. That number does not include the many African people killed resisting the slave traders.
The slave trade was one of the most profitable businesses in the world. Greedy people of every nationality participated in the trade. A few Jews owned slave ships, but they did not own "a lot" of the ships. Jews were not major players in this brutal business, and they certainly did not initiate, control, or dominate it.
A leading historian of the slave trade, Yale Professor David Brion Davis, writes: "Far from suggesting that Jews constituted a major force behind the exploitation of Africa, closer investigation shows that [Jewish] merchants were the exception, far outnumbered by thousands of Catholics and Protestants who flocked to share in the great bonanza."
The role of some Jews in the slave trade is part of history and should be acknowledged, but the exaggerated charges of a major Jewish role should raise questions why a particular group is being targeted.
Discussion Questions:
Earlier in the film, Gary Rubin of the American Jewish Committee says, "The only reason people would say that Jews were the controlling element of the slave trade is to try and destroy the notion of a Black/Jewish alliance and therefore to hurt Black/Jewish relations today." Do you agree?
There have been discussions recently about an official government apology to African Americans for slavery. Similar apologies have been made by the U.S. government to Japanese Americans who were interned unjustly during World War II, by the Catholic Church in France for failing to stop the Nazis from sending French Jews to concentration camps, and by the British government to the people of Ireland who suffered from Britain's role in the Great Potato Famine of the 1800's. What do you think of apologies? Would an apology make you feel better? Is an apology a way to escape larger responsibility? What responsibility do later generations have to apologize or to make up for crimes of their ancestors? What kind of action or statement do you think would be an adequate apology for slavery?
---
Activities
The following discussion questions and activities will help students discuss and analyze issues presented in the film. Keep in mind that you need to balance these two essential tasks: creating a safe environment in which the issues can be discussed, and challenging students to think critically and honestly about their reactions to these issues.
Round robin writing: Write the following questions on the board and have each student write a response to a different question:

Which characters in the film were courageous and what risks were they taking?

Which part of the film elicited the strongest response from you?

Did anything in the film surprise you?

Which part was hard to understand or difficult to believe?

With whom did you identify most strongly in the film?

What incidents of intolerance and misunderstanding have you witnessed in your family, school, or community? Evaluate how people responded.
Group the responses by question and post them. Your class might wish to create an anthology of these and other writings they do in connection with the film and publish it as a small magazine.
Personal writing: Students may review what they wrote about crossing borders before watching the film. Have their views changed? What do they think of the idea that they need to understand their own pain before they can understand someone else's?
Small group discussion: Divide students into small groups of no more than four or five. Invite them to imagine that someone at school makes a racist or anti-Semitic statement or joke or to recall a time when this has happened to them or to someone they know. Ask them to write down their stories and then share them with the group. They should answer these questions: How did they feel when they heard the statement or joke? What did they think they should do? What did they actually do? Were they afraid?
Research Projects
1. Media Analysis: Have each student choose an ethnic, racial or religious conflict currently in the news. Collect five recent articles about that conflict from newspapers or news magazines. How are different groups portrayed? Who is writing the story? Who are the people quoted in the articles? Who is not quoted? Are there pictures with the articles and what do they tell you? What do you think might have been left out of the stories? Do you think the coverage is biased or one-sided? Paste up the articles with pictures and captions and write a two to three page essay summarizing your conclusions. Be sure to cite specific sections of the articles and use quotes.
2. Researching Your Community A: In the film Martin Luther King says that in the ghetto, Blacks "pay more for less." In many poor communities like Lawndale in Chicago or near Castlemont in Oakland there are few, if any, large supermarkets. The big grocery stores have left the community, leaving the population dependent on small markets for food. Go to a big supermarket and small grocery store in your area and compare prices for these items: milk, apples, orange juice, eggs, and wheat bread. Which store is cheaper and why?
3. Researching Your Community B: Many people who see "Blacks and Jews" are shocked by the evictions in Chicago, and few people are aware that evictions are still common today. Are evictions taking place in your community? Contact the sheriff's office or other agencies responsible for evictions and find out who is being evicted and why in your community. How do these evictions differ from what was going on in Chicago?
4. Oral History, Speakers and Interviews: The Crown Heights, Lawndale, and Castlemont stories are about areas that have changed dramatically in the past half century. Invite a local historian or community elder to visit your group or class to describe changes in the local area over his or her lifetime. Participants can also interview family members or other long term residents they know. What are their stories about the neighborhood? Who lived in the area when they first arrived? Are those people still in the area now? Where have they gone?
5. Researching Your School: The Castlemont story is about students at a school that lacks many important resources it needs to serve the community. Ask your students to interview two teachers, a janitor, a school counselor, and the principal of the school or college about what resources are lacking. They should ask their interview subjects what the interviewees see as the obstacles to solving those problems. Are intergroup conflicts a factor in the resource issues facing the school? They should then write up a report on the problems, the resources needed to address those problems, the obstacles to solutions, and their conclusions about the role of intergroup conflict in these issues.
6. Activism and Leadership: Identify community leaders involved in intergroup relations. Ask them to visit the class and discuss how they go about this work both in their own community and with other communities.
---
Books

Blacks and Jews: Alliances and Arguments, edited by Paul Berman, Delacorte Press, 1994

Broken Alliance: The Turbulent Times Between Blacks and Jews in America, by Jonathan Kaufman, Charles Scribner's Sons, 1988

Jews & Blacks: Let the Healing Begin, by Michael Lerner and Cornel West, G.P. Putnam's Sons, 1995

Bridges and Boundaries: African Americans and American Jews, edited by Jack Salzman with Adina Back and Gretchen Sullivan Sorin, George Braziller in association with The Jewish Museum, 1992

Struggles in the Promised Land: Towards a History of Black-Jewish Relations in the United States, edited by Jack Salzman and Cornel West, Oxford University Press, 1997

Face to Face: Encounters Between Jews & Blacks, Photographs and Text by Laurence Salzmann, Blue Flower Press, 1996
Publications

Common Quest: The Magazine of Black-Jewish Relations, a publication of the American Jewish Committee and Howard University, Washington D.C. Tel: (202) 806-6705 & (202) 806-6874.
Audio Cassettes

"Blacks and Jews: Ambivalent Allies", a four-hour radio series produced in 1994 for Pacifica Radio by the producers of the film "Blacks and Jews". The four programs include extensive interviews with historians and other scholars. Cassettes are available from the Pacifica Radio Archives, 3729 Cahuenga Blvd. West, North Hollywood, CA 91604. Tel: (800) 735-0230.
Films/Videos/Theatrical Performances

"Crossing the Broken Bridge," a play on Black-Jewish relations soon to be available on video. Written and performed by Naomi Newman of A Traveling Jewish Theater and John O'Neal of Junebug Productions. Directed by Steve Kent. Contact: A Traveling Jewish Theater, 323 Geary St., Suite 415, San Francisco, CA 94102. Tel: (415) 399-1809. Fax: (415) 399-1844.

"The Angel Levine," 1970, directed by Jan Kadar, distributed by Swank Motion Pictures, 201 South Jefferson, St. Louis MO 63103. Tel: (800) 876-5577.
A dramatic feature based on a Bernard Malamud story with Zero Mostel as an impoverished old Jew and Harry Belafonte as the Black angel who must save him.

"Black to the Promised Land," 1991, directed by Madeleine Ali, distributed by First- Run/Icarus Films, 153 Waverly Pl., New York NY 10014. Tel: (212) 727-1711. A Black filmmaker follows 11 African American teens taken to an Israeli kibbutz in this feature length documentary on the potential and limits of cross-cultural exchange.

"Blacks and Jews: Are They Really Sworn Enemies?", 1992, produced by students through the Educational Video Center, 60 E. 13th St., New York NY 10003. Tel: (212) 254-2848. This short subject documentary, produced by students, examines Black-Jewish relations and tensions in Crown Heights.

"Fires in the Mirror", 1993, Written and Performed by Anna Deavere Smith. A one-woman performance piece about the events and emotions leading up to and following the Crown Heights conflict. Produced by American Playhouse. Available from PBS Video, (800) 344- 3337.

"The Glass Shield," 1995, directed by Charles Burnett, distributed by Miramax. Available in home video. A dramatic feature in which two rookie police officers, one Black and one Jewish, run up against racism and anti-Semitism as they expose police wrongdoings in Los Angeles.

"Matzo Balls and Black-Eyed Peas," 1994, directed by Daniel Robin, distributed by Carousel Films, 260 Fifth Ave., New York NY 10001. Tel: (800) 683-1660. A personal, short-subject documentary about a young couple's interracial, interreligious relationship.

"Zebrahead," 1992, directed by Anthony Drazan, distributed by Triumph Films/Sony. Available in home video. A dramatic feature about the pressures on a young interracial couple.
As we go to press, several documentary films are reported to be forthcoming,
including: the history of Jews in the civil rights movement, the history of Jewish teachers in Black colleges, the history of an all Black Jewish synagogue in New York City. For updates on new films, call the San Francisco Jewish Film Festival: (510) 548-0556.
National Organizations

Facing History and Ourselves, 16 Hurd Rd., Brookline MA 02146
Tel: (617) 232-1595, fax: (617) 232-0281, email: info_boston@facing.org
Educational and teacher training organization that studies prejudice and promotes a more humane and informed citizenry.

Jewish Council on Urban Affairs, 618 Michigan St., Chicago IL 60605
Tel: (312) 663-0960, fax: (312) 663-5305, email: jramse#@orion.it.luc.edu.
Grassroots coalition building for community empowerment, economic development, and social justice.

Operation Understanding, 2120 S. St., Washington D.C. 20008
Tel: (202) 234-6832, fax: (202) 387-8488, email: kalcoms@aol.com
Leadership development and coalition building for Black and Jewish high school students.

Acknowledgments
Study guide written by: Alan Snitow and Deborah Kaufman
Copyright, 1998, Snitow-Kaufman Productions, Inc.
This publication was made possible by generous grants from:
The Jacob and Hilda Blaustein Foundation, The Victor and Lorraine Honig Fund of the Vanguard Public Foundation, the Rita J. And Stanley H. Kaplan Family Foundation and the Lucius N. Littauer Foundation.
Study Guide Consultants: Larry Adelman, California Newsreel; Professor Clayborne Carson, History, Stanford; Bari Scott, SoundVision Productions; Jack Weinstein, Northern California Director, Facing History and Ourselves; Professor Diane Wolf, Sociology, UC Davis.
Thanks to: American Social History Project, California Working Group & the "Not In Our Town" Project, Janet Cole, Educational Video Center, Jill Hannum, Judith Helfand, Jewish Museum of New York, Frances Reid, Laurence Salzmann, and Sharon Wood.
"Blacks and Jews" is distributed by:
California Newsreel
E-mail: contact@newsreel.org Web site: www.newsreel.org
The film "Blacks and Jews" was produced by Alan Snitow, Deborah Kaufman, and Bari Scott for Snitow-Kaufman Productions. "Blacks and Jews" had its theatrical premiere at the Sundance Film Festival in January, 1997 and its national broadcast premiere in the PBS series "Point of View" in July, 1997.
"Blacks and Jews" Academic Advisors: David Biale, Clayborne Carson, David Garrow, Cheryl Greenberg, David Levering Lewis, Jack Salzman, Patricia Williams.
Major funders of the film were: The Ford Foundation, the Nathan Cummings Foundation, the Rockefeller Foundation, the California Council for the Humanities, the Jacob and Hilda Blaustein Foundation, the Fund for Jewish Documentary Filmmaking of the National Foundation for Jewish Culture, and the Soros Documentary Fund.
Official Selection at the 1997 Sundance Film Festival.
Winner of the Lindheim Award at the Jewish Video Competition.
Winner of the Cross Cultural Award at the International Black Independent Film and Video Competition.